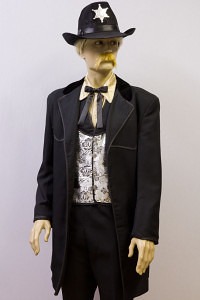 Want to be Miss America, a cowboy or saloon girl? Take yourself back to the American Civil war, dress as Scarlet O'Hara or even the Statue of Liberty! We have a range of costumes to make you all things stars and stripes…
Wigs, hats and some other accessories are all part of your outfit – to help make the change complete.
We also have a few costumes or accessories to buy but, if there is anything specific that you are looking for just let us know in plenty of time and we can always try and order it in for you.
The photos give an idea of some of the outfits which are available, but we always try to put together a costume to suit you.
Please call into the shop so that we can help create a special look for you.