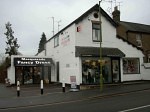 PLEASE NOTE THAT A DEPOSIT AND PROOF OF ADDRESS IS REQUIRED WHEN BOOKING A COSTUME HIRE.
Masquerade Fancy Dress is close to Watford Junction Station, near the Town Centre.
We have customer parking outside the shop so you can easily pop in and talk to one of our knowledgeable staff or, if you prefer, simply call in advance to check what fancy dress is in stock or to order something specific.
Address: 23 Langley Road, Watford, Herts WD17 4PR
Telephone: 01923 243842
Website: www.amasquerade.co.uk
Shop Opening Hours: Tues 11am – 5pm, Wed 11am – 2pm, Thurs and Fri 11am – 7pm, Sat 11am – 5pm, Closed Sun – Mon.

View Larger Map