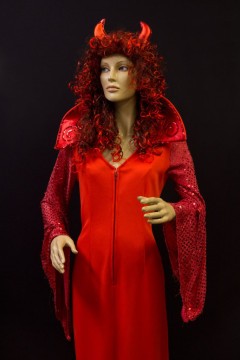 BEAT THE RUSH !
In addition to our normal opening hours, from the 15th we will be open Mondays 11-5 and Sundays 11-4.

If you are planning a Halloween Party please try and visit our shop as soon as you can, we have loads of Halloween Costumes out on display.
We are stocked with blood and teeth and all manner of masks and accessories. In addition to packaged costumes to suit all budgets we have a fantastic selection of costumes to hire and hire quality hire costumes for sale.
But we recommend you come in soon!

Dracula, Vampires, Witches or Goths – we have a great range of costumes for you to hire. We can even help you look like one of the Horror movie stars – Freddy, Hannibal or Chucky? And we're sure we will have something to turn you in to a devil!
We also sell horror and halloween packet costumes and accessories, and we even have some special offers on ex-hire costumes to clear.
We have plenty of outfits for you to choose from in October – but if you are looking for something special at a different time of year just let us know. If we don't have what you want in stock then we can always try and order it in for you.
And don't forget to complete your fancy dress costume with a gruesome mask, some face paint, fake blood or just vampire fangs – we have lots to choose from.
No matter what you are looking for we should be able to transform you. The photos give an idea of some of the outfits which are available, but we always try to put together a costume to suit you.
Please call into the shop so that we can help create a special look for you.