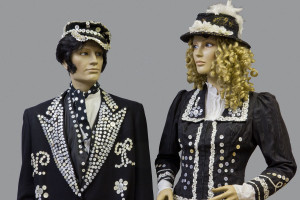 NEW WEBSITE FOR MASQUERADE FANCY DRESS WATFORD. 
THIS SITE IS CURRENTLY UNDER CONSTRUCTION (NEARLY COMPLETE!). IF YOU HAVE ANY DIFFICULTIES PLEASE CLICK HERE TO GO TO OUR CURRENT WEBSITE. WWW.WATFORDFANCYDRESS.CO.UK
May Day, a pagan religious festival, is best known for dancing around a Maypole or the crowning of the Queen of the May. As a celebration of the start of summer it was a popular and wild occasion.
Many of the old traditions associated with the day have died out – such as the giving of May Baskets (filled with flowers or sweets) – but village fetes or fairs often still occur.  In some places specific celebrations are arranged: in Oxford the Magdalen College Choir sing in the dawn from the top of their chapel tower, in Padstow they celebrate 'Obby 'Oss Day and there's a Sweeps Festival held in Rochester.
However you choose to celebrate the May weekend why not do it in fancy dress?
Whether you're having a themed party, attending a fete or are part of some May Day festivities we have a selection of fancy dress costumes, to hire or buy, to make you the star attraction!
Dress as pearly kings and queens, be a superhero or a character from history.
Select from our wide range of quality fancy dress costumes available to hire or pick out an outfit or accessories to buy.
If you need a specific costume why not give us a call so that we can advise on availability.
We have a wealth of experience and knowledge and a range of fancy dress ideas to help you chose the best costume to suit your event.