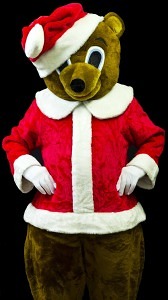 New Year Opening Hours: From Fri 27th we will be opening at 10am each day including Sun 29th. Closing times vary: Fri 27th at 7pm, Sat 28th at 5pm, Sun 29th at 3pm, Mon 30th at 5pm and New Year's Eve at 5pm.
Need a Santa costume for the children's party? Want an outfit for the office party or a murder-mystery evening with friends? Be the Dame in a Christmas panto?
We have a wide selection of Christmas fancy dress costumes, masks, wigs and accessories to buy or hire – whether you want traditional Christmas or need to dress up for a specific theme.
Stuck for an idea? Just browse through our costumes ideas page or call in and we will help you chose.