The 23rd April is St Georges Day. Well known for his fight with a dragon, George was made a military saint, with an official day to remember him, in the 15th century.
Thinking of having a party to celebrate? Why not have a medieval party?
We have some great fancy dress outfits for Knights, Kings and Queens and can even dress you up as a dragon!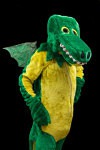 Whilst we can't guarantee that the damsels will be in distress or that you'll find the holy grail, our outfits will certainly help transport you back to by-gone times.
We have got a wide range of quality costumes and accessories which you can hire and a variety of outfits and accessories to buy.
So, why not pop in and see who you could be!
We have a wealth of experience and knowledge and a range of fancy dress ideas to help you choose the best costume for your party or event.